Introduction:
Preparing a well-structured business plan is vital for entrepreneurs seeking funding or aiming to streamline their business operations. This guide outlines a comprehensive business plan format in eight simple steps, ensuring that your business strategy is clear, concise, and effective. Follow these steps to create a business plan that captivates potential investors and propels your business towards success.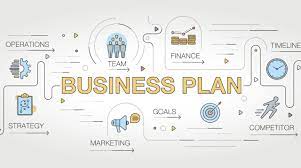 1) Executive Summary:
Objectives of the company Outline your business goals, vision, mission, and success parameters. Define the key elements your business depends on, such as loans, quality of products, talented workforce, and delivery timelines.
2) About Your Company:
Ownership and Assets Detail the ownership structure, assets, liabilities, and funding requirements for working capital. Specify the locations of your offices and divisions.
3) Products and Services:
Description and Competitive Analysis Describe your products and services, including competitive analysis, marketing strategies, advertising plans (including social media), technological influences, and expansion plans.
4) Market Analysis:
Segmentation and Trends Analyze your market segment, products, distribution strategies, competitors, sales trends, and partnerships with franchisees or affiliates.
5) Business Strategy:
Marketing, Distribution, Pricing, and Promotion Develop strategies for marketing, distribution channels, pricing formulas, promotional activities, and sales. Clearly outline your sales strategies for optimal market penetration.
6) Organizational Structure:
Company Structure and Key Personnel Provide an overview of your organizational structure, introduce the management team, and highlight key talent within the company.
7) Financial Plan:
Financial Indicators and Projections Delve into important financial factors, including break-even analysis, projected revenues, costs, profit and loss account, cash flow projections, balance sheet, and financial ratios.
8) Summary Index:
Concise Recap of Key Steps Create an index summarizing the essential components of your business plan, including the executive summary, company overview, products and services, market analysis, business strategy, organizational structure, and financial projections.
Conclusion:
A well-crafted business plan is not just a document; it's a roadmap to your business's future success. By following this step-by-step guide, entrepreneurs can create a business plan that not only impresses investors but also serves as a strategic tool for decision-making and growth. Remember, a meticulously prepared business plan is the cornerstone of a thriving business in today's competitive landscape.